Bone Resorption Needs to Be Addressed During Gum Disease Treatment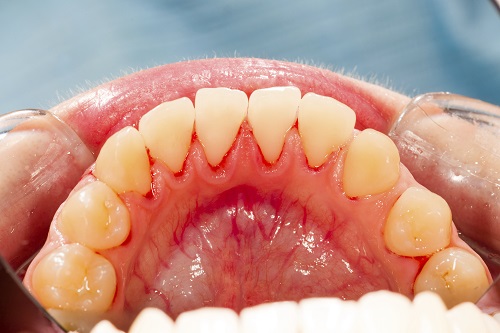 Bone resorption is a totally normal and common condition - in children! However, when it occurs in adults, swift action is required to help prevent permanent loss of the tooth.

While we're not exactly sure what causes pathological bone resorption in adult teeth, there are steps we can take to prevent it from progressing and worsening after treating gum disease.


Understanding and Treating Bone Resorption
Bone and root resorption typically occur in children as a signal to make room for your permanent teeth, but sometimes signals get crossed in your body and adult teeth start to become resorbed in the body.
While the specific cause for this isn't known, it's hypothesized that certain causes can trigger it, including:


| | |
| --- | --- |
| • | Trauma to the site |
| • | Gum disease |
| • | Tumors |
| • | Abscesses |
| • | Impacted teeth |

When gum disease is the cause of the bone resorption, treating the underlying disease can halt the progression of the root resorption. Failure to address the cause of the bone resorption can cause lasting damage, as the disease could continue to progress unchecked.
Advanced stage periodontitis can expose the tooth root, rendering it vulnerable to attacks from your immune system. These attacks trigger the bone resorption, causing loss of the root and, eventually, the tooth.

Good oral hygiene habits can treat the gum disease, stopping the harmful bacteria in their tracks. Treatment for bone resorption in late-stage periodontal disease includes:


| | |
| --- | --- |
| • | Antibiotics |
| • | Scaling and root planing (to reduce the gum pockets) |
| • | Root canal (to remove any infected matter in the tooth) |
| • | Taking better care of your teeth |

Bone resorption truly highlights the importance of routine dental checkups. Without them, it would be difficult to detect this disorder.

Fortunately, regular checkups with cleanings and X-rays allows our highly skilled and trained dental staff to quickly identify any bone resorption issues in our patients.

Taking good care of your teeth at home, including brushing and flossing, is key in preserving your teeth. It's important to remember that conditions like these can be subtle and sneak under the radar, though, so please give our office a call today to schedule an appointment.

We can thoroughly assess and promptly diagnose any gum disorders you may have and treat them, ensuring the lasting health of your smile.