What to Do If You Develop Bleeding Gums and Have Dental Implants?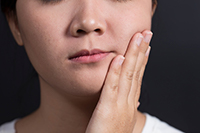 If you have dental implants, you can still develop gum disease. In fact, there is even a special term for gum disease that occurs around dental implants: peri-implantitis. Bleeding gums can be a sign of early gum disease whether you have dental implants or not. Read on to learn more.


What Do Bleeding Gums Mean?

Your gums may bleed while brushing your teeth if they have become inflamed. Oral bacteria can cause inflammation of your soft gum tissue, resulting in red, tender, and bleeding gums. Bleeding while brushing your teeth is usually an indicator of gingivitis, the earliest stage of gum disease. It can also mean that you are brushing your teeth too roughly. When gingivitis affects the gums around dental implants, it is known as peri-implant mucositis.


How Can Bleeding Gums Be Treated?

If you notice your gums bleeding when you brush your teeth, you should come see us so we can assess you for gum disease and begin treatment as soon as possible. Whether you have dental implants or not, early gum disease can usually be reversed if it is caught early enough. Professional cleaning and following a strict oral hygiene regimen is usually all it takes to reverse early gum disease.

If peri-implant mucositis is not caught and treated early enough, it can continue to develop into a more advanced stage of gum disease known as peri-implantitis. With peri-implantitis, bacteria infects the bone supporting your dental implant, in addition to infecting the gum tissue. The bone begins to deteriorate, which can eventually cause your implant to loosen and fall out. Depending on how severe the bone deterioration is, we may need to perform bone grafting surgery in order to place another implant in the future. If you have dental implants, you can prevent gum disease the same as you would for natural teeth: by practicing proper oral hygiene, visiting our office regularly for checkups, and not smoking. If your gums are bleeding and you have dental implants, call our office today.