Should You Come In and See Us at the First Signs of Gum Disease?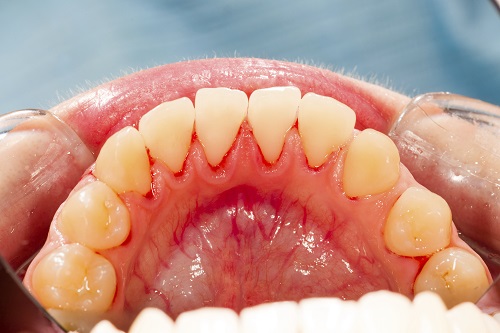 Red swollen gums, blood when you brush and floss, and tooth sensitivity - sound familiar? If this sounds like you, you may be suffering from the early sates of gum disease, also known as gingivitis. The precursor to advanced periodontal disease, the symptoms of gingivitis can be reversed at home if caught early. However, it's important to know when medical intervention is required, and which point you should stop by our office to have us take a look.

Knowing When Your Gum Disease Needs A Professional Approach

Gum disease affects over a million people annually, so if you suffer from it, don't be too hard on yourself; you're in good company. However, that doesn't mean you should simply ignore it and hope that it goes away. Catching it quickly is vital to ensure that the condition doesn't worsen.
Early stage gum disease is also known as ™gingivitis™ and is easily recognized by the following symptoms:

| | |
| --- | --- |
| • | Bad breath |
| • | Puffy gums |
| • | Bleeding when you floss |
| • | Receding gums |
| • | Sensitive teeth |

If caught at this stage, it's easily treated, and your teeth won't endure permanent damage. Immediately commence with a brushing and flossing regimen and you can restore your teeth to their healthy glory. Brush for two minutes, twice per day, at a 45-degree angle. Follow up with flossing and make a habit out of it; your teeth and gums will thank you!
Early stage gum disease may not need our help, but it's a good idea to have us thoroughly assess your mouth. If you feel as though you are careful with your brushing and flossing and you're still encountering the symptoms of gingivitis, we can help pinpoint the root cause of your gum disease and help you treat it.
While early stage gum disease may not automatically warrant a trip to our office, regular visits can help ward off any complications that may arise from it and prevent it from progressing from advanced stage gum disease. Please call our office to schedule an exam and cleaning with our skilled and professional staff today!