Treating Gum Disease Early Gives You The Best Chances of Having a Healthy Mouth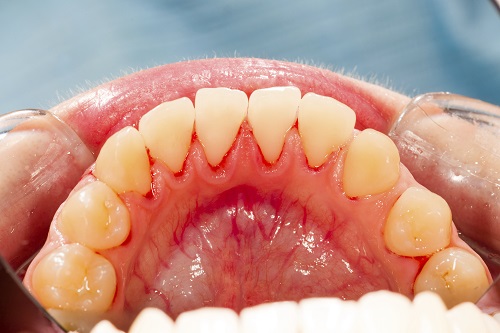 Periodontal disease is an infection in the tissues that hold your teeth in place in your mouth. Very simply put, it is a disease in your gums.

It can be caused by many things, including poor oral care, irregular flossing and brushing (or lack of) and sometimes even genetics. As with most infections, early detection and early treatment is your best bet when it comes to maintaining a healthy mouth.


What Causes Gum Disease
It may sound gross, but it is true; our mouths are full of sticky bacteria, mucus, food particles and plaque. If left alone, these substances will begin to eat away at your tooth enamel and set deep into your gum line infecting your tissue, jawbone and roots of your teeth.

This is periodontal disease. And it is not pretty. Smoking increases a person's risk for developing gum disease, and it can also make treatment for periodontitis less effective. Other risk factors include diabetes, hormonal changes, medications that give you dry mouth and genetics.

If you think you might be at risk for developing gum disease, please do make an appointment and let us know so that we can help you begin early treatment. Catching the disease and infection in its early stages greatly increase your likely hood of restoring your gum tissue naturally and avoiding tooth loss.

Of course, prevention is the best option, which is why if you are at a higher risk for developing gum disease, we suggest that you not smoke and that you practice excellent oral care. Brushing your teeth twice daily as well as flossing and keeping regularly scheduled checkups with our office can greatly reduce the likelihood that you will develop gum disease.

If you have any questions or concerns about your gums or suspect that you may have an infection, or perhaps you are just due for a checkup, give us a call soon.