Diagnosing the Different Stages of Gum Disease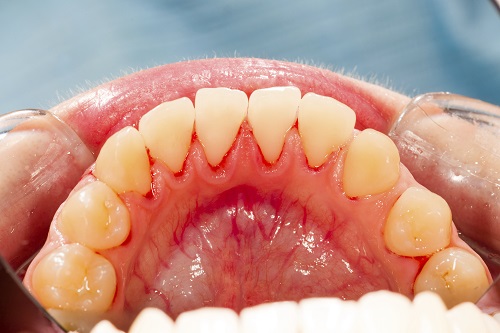 When you hear the term ""gum disease"" you may not know exactly what it is. Here are the three stages of gum disease, and what you can expect to see with each.

Of course, as always, you should come see us on a regular basis, so we can inspect your gum tissue.


Gingivitis
The first stage of gum disease is actually fairly common. When you have gingivitis, your gums have become slightly inflamed (or swollen) due to the plaque that is starting to collect at the gum line. This stage can develop in as little as a few days, and is most frequently marked by bleeding during brushing and flossing.

The good news is that gingivitis can be reversed fairly easily. Just make sure you start brushing and flossing properly to maintain whatever treatment we provide you, and it should clear up relatively quickly.


Periodontitis
If you neglect gingivitis long enough, it will develop into periodontitis. This is what you see when some of the tissues that connect the gum tissue to the teeth have been permanently damaged.

A challenge of periodontitis is that it can quickly accelerate the development of gum disease: because it involves the formation of pockets below the gum line, it creates more places for food and plaque to get stuck.


Advanced Periodontitis
The final stage of gum disease is quite drastic. At this point the gum tissue will frequently have pulled drastically away from the teeth. The teeth may wiggle in their sockets. If you have advanced periodontitis, we need to see you right away. It's a race against the clock in order to save your teeth.


Come See Us
We are here to help you, and to help keep your gum tissue healthy. If you have any questions, please come see us. We look forward to seeing you and helping keep your smile healthy and happy!