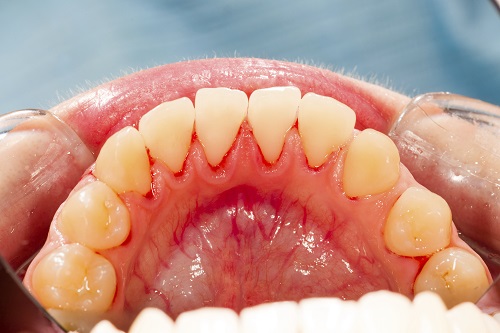 Gum resorption or gum recession is one of the most prevalent gum problems that can affect anyone of any age.

Unfortunately, this condition can also affect even those who maintain good oral habits.

Considering its many negative implications, it is best that you see us immediately for professional advice and care if you start noticing that your smile appears to be "toothier" than usual, when your gums are becoming less noticeable (because it is pulling away from your teeth), or when your teeth become loose.

If you see any or all of these signs, there is a great chance that your gums are resorbing.


Most Common Causes of Gum Resorption
Gum resorption or gingival recession has many possible causes, which should be identified properly since treatment depends largely on the cause of the problem.

Some of the most common causes of this gum issue stem from improper dental habits such as brushing your teeth too hard or aggressive flossing. The habit of teeth grinding when you're sleeping can also cause your gum to recede.

If both your parents suffer from gum recession, then there's a good chance you will have one as well because of genetics. Lastly, if you don't follow regular good oral hygiene habits, you are also at risk of receding gums.


Treating Gum Resorption
As mentioned earlier, treatment for gum recession depends largely on the cause, which is why you should not practice self-diagnosis but come visit us immediately for professional help. We will evaluate your condition, carry out the necessary dental procedure as well as provide you with pointers and guidelines on how to better care for your teeth and gums.

Note that if you fail to immediately address your gum problem you may experience pain, discomfort, and many other oral health issues. Maintaining good dental and oral health is critical to living a satisfying and comfortable life.

If you have any questions or would like to schedule an appointment, please call us at (602) 900-1609 today.