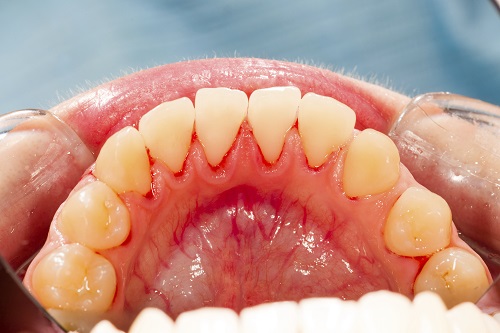 Recession is a common side effect of gum disease. It is when the gum tissue dies back from the bacteria that invaded the gums. There are things that can be done to help cover the base-portion of your teeth again, but it involves you needing to get treated for gum disease first.

Root exposure is something that happens slowly, over time. If you notice a slight change in where your gums sit on your tooth, you need to come in and let us take a look. It could save your gums and your teeth from a future of pain.


Gum Recession Gradually Exposes the Root of Your Tooth
When you struggle with gum disease, it leaves your gums consistently inflamed. They are always sore, raw, and struggling to get healthy. The problem is that the gums, despite their best efforts, are not able to get healthy on their own. They need help to get back to being healthy.

As gum disease progresses and worsens, the gum tissue begins to die. This causes the gums to pull back from their original position on the tooth. The gums are no longer healthy enough to stay attached to the teeth properly, which allows them to become lax. This lets in more bacteria between the tooth and gums, and only furthers the effects of gum disease.

Receding gums can be treated, but you have to come in and see a professional periodontist, like us, for treatment. We will start with the most non-invasive procedures possible, then work our way up as necessary.

Once the gum disease has been removed from your mouth, we can then move over to treating the gum recession. Typically, this can be treated with a gum graft, effectively recovering the roots of your teeth.

If you have any questions or would like to schedule an appointment, please call us at (602) 900-1609 today.