The Truth about Why Your Gums Bleed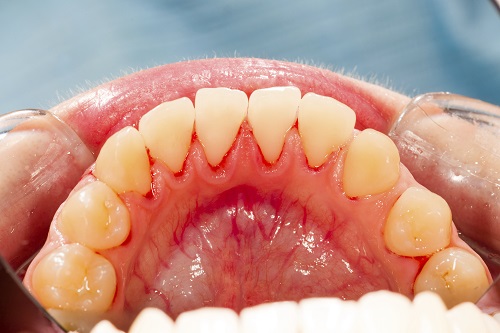 Many people believe that if they brush their teeth and their gums bleed, they are simply brushing too hard.

Unfortunately, this is usually not the case, and there is often a more sinister reason behind bleeding gums: periodontal or gum disease. If your gums are bleeding when you floss or brush, it is time to schedule an appointment with your periodontist.


Why Are My Gums Bleeding?

If your gums are bleeding during your oral hygiene routine, you shouldn't ignore the problem. Bleeding gums tend to be the first sign of gingivitis, the earliest form of gum disease.

The bleeding is often a result of inflammation, as when gums become inflamed, they will become more sensitive than healthy gums. Even a soft, baby toothbrush and flossing with minimal pressure may result in bleeding.


What Other Signs of Periodontal Disease Should I Look For?

So now that you know that bleeding gums can be a sign of periodontal disease, it is important to know what other symptoms you should look for that could indicate gingivitis or a more serious form -periodontists:


| | |
| --- | --- |
| • | Gum tissue that appears puffy or swollen |
| • | Gums that are extremely red or tinted purple |
| • | Gums that appear shiny |
| • | Sensitivity and soreness of the gums |
Should I Be Worried about Gum Disease?

Sure, it can be annoying to deal with bleeding gums, but is it really a big deal? The simple answer is yes. Gum disease can affect your entire mouth, not just the gums. If you fail to get treatment for your gum disease, you may experience a host of other problems, including receding gums, extreme tooth sensitivity, and possibly even tooth loss.

Even more troubling, research has indicated that people who battle chronic gum disease are also more likely to have other health problems, including strokes and heart disease, so it is crucial that you contact us today to get help with your gum disease.

Click an icon below to share our blog.






Back to Blog Home