Regenerating Bone Tissues of the Jaw - What to Know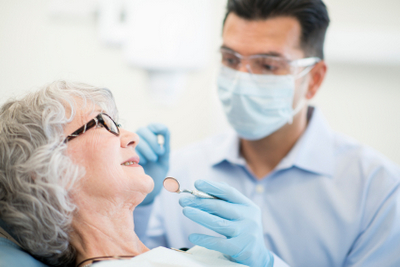 If you have experienced significant bone loss in your jaw because of advanced gum disease, you should be aware that there are options to treat this bone loss.

One of them involves regenerating bone tissue - using materials from one of a variety of sources.


Can You Regenerate Bone?

Fortunately, the answer is yes! Bone is a living tissue and, just as your body will regenerate soft tissue - think about how a cut on your hand heals - it can also regenerate bone tissue.

Of course the process is a little bit more complicated than what is involved in a cut on your hand healing, and it must be done under the guidance of a qualified dental professional (that is what we're here for!), but in short, yes, it can be done.


How Do You Do It

There are a few different ways to regenerate bone tissue. The most common involves making an incision in the gum tissue to expose the jaw bone. We can then add a grafting material to the bone. This grafting material is organic in nature and helps to guide the jaw bone as it grows.

Another method we may be able to use in regenerating bone tissue involves taking tissue from elsewhere in your body, or even taking tissue from a donor. We can graft this tissue into your existing jaw bone, and your body will eventually heal over the tissue. What will be created will be new jaw bone material.


Come Talk To Us For More Information

Regenerating bone tissue is a complicated process subject to a number of factors. If you are considering having this done, we should spend some time talking about it first. We can explain your various options and help you determine the best course of action. Contact us today, and let's get started.

Click an icon below to share our blog.






Back to Blog Home